Local Woman Winning Big in Pickleball With Knee Replaced by Dr. Mary Gilmer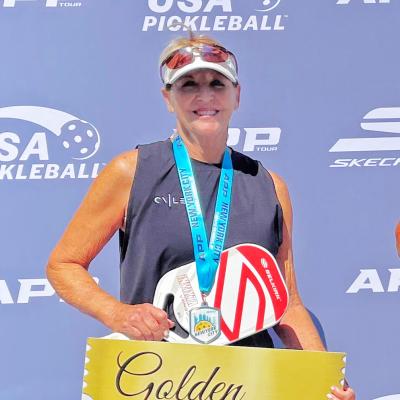 Becky H., residing in Trussville, is a grandmother of five, a retired computer instructor, and an eilte pickleball player. She has been an athlete for most of her life, starting as a young girl playing softball and later playing tennis after college. For 25 years, she competed in tennis tournaments and leagues before she added pickleball to her activities in 2020.
Earlier on in her tennis career, Becky suffered from an ACL tear, which required ACL reconstruction surgery. With the expertise of her doctor, Becky continued to be active for the next 25 years without knee pain. As is common with athletes and highly active individuals, the knee tissue that prevented bone-on-bone contact wore away, gradually making the simplest activities difficult. Becky was at the point where she was not able to run after her grandchildren or compete at the level she wanted.
"Everything was painful," says Becky.
In an effort to get back to her sports and playing with her grandchildren, she sought help from board-certified orthopedic expert Dr. Bradly Goodman, one of the first interventional physical medicine doctors in the country. As Becky's long-term provider, Dr. Goodman was familiar with her medical needs and history. He recommended board-certified, fellowship-trained orthopedic surgeon Dr. Mary Gilmer, who specializes in the surgical and nonsurgical care of the foot, ankle, and knee.
"I went and met with [Dr. Gilmer] and was totally impressed," says Becky, "She spent a lot of time with me. She is an active person herself, so she understood my desire to get back to tennis and pickleball and being active with my family. In the end, I trusted God and Dr. Gilmer for a great result."
Even though Becky's passion was with competitive pickleball, the love she has for her family was even more important. Becky described wanting to spend time with her grandkids playing in the yard, going on trips, and running in the sand at the beach. After her knee replacement with Dr. Gilmer in 2021, she could do just that and more.
Following her knee replacement, Becky underwent physical therapy and experienced remarkable progress. Becky went from walking to her mailbox just one day after surgery to nearly 100% recovery in less than eight weeks.
In May 2023, the two-year mark, she went up against elite competitors at The Boca Raton 2023 APP New York City Open. She competed in the Super Senior PRO and in the Amateur Women's Singles events. For Women's Singles, she won a silver and a gold medal, qualifying her for the 2023 USA National Championships in Dallas, TX.
Since her surgery, she has not had any issues keeping her from the activities she loves. Becky has come a long way. She found the help she needed at OrthoAlabama Spine & Sports and credits Dr. Gilmer and Dr. Goodman for being able to go the distance.
"I would not, of course, be getting to play at this level if it wasn't for my knee replacement, [which] I am very thankful for," Becky says.
To learn more about our knee procedures or to schedule an appointment with our providers at OrthoAlabama Spine & Sports, call (205) 228-7600 or request an appointment online.